Still searching for the perfect gift for the runners in your life? Here are some of my favorite ideas.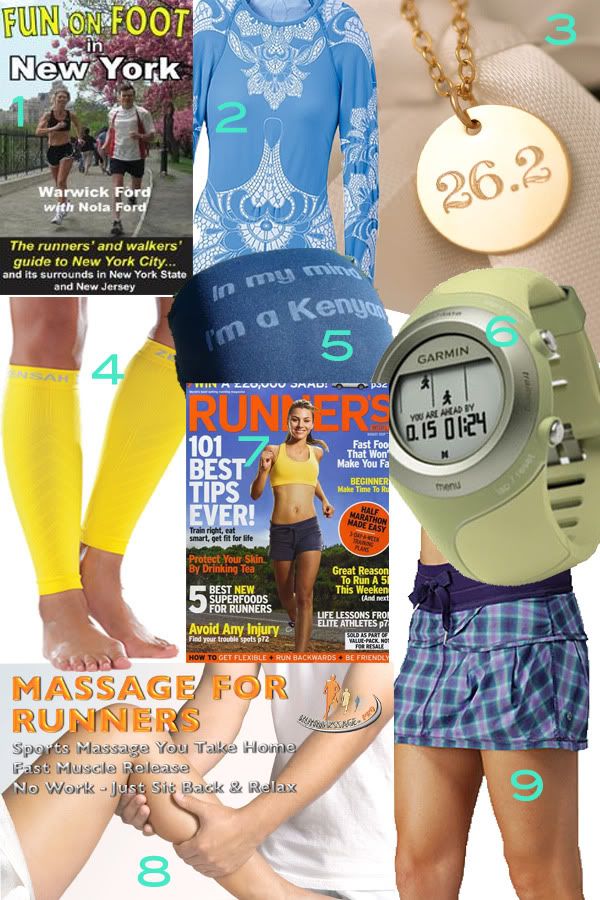 No.1 I LOVE the
Fun on Foot
running guides! These books are available for a variety of locations including New York, Philadelphia, New England and American Cities (a compilation of cities across the country). The guides map and describe running and walking trails and include information about local running clubs, among other things. I'll be writing up a complete review on the New York guide in a few days but in the meantime, consider this a sneak preview. They rock!
No.2 A bad ass moisture wicking running top.
This one from Athleta
is on my winter shopping list. Isn't it cute?
No.3 the
26.2 engraved marathon necklace
of course! This small disc can also be engraved with 13.1 or any other distance your favorite runner desires.
No.4
Zensah compression sleeves
not only look ridiculously hot, they increase oxygen blood flow to the lower leg muscles during long runs or for recovery. These made all the difference on those 18 & 20 mile marathon training runs.
No.5
Moisture wicking headbands from Scarlett Craft
are cute and so necessary. They keep your hair & sweat out of your eyes, come in multiple colors and a variety of sayings. My favorites are "In my mind I run like a Kenyan" and "Runnerd"
No.6 I love my
Garmin 405 GPS watch
so much, I named him Samson. A GPS watch takes the mileage guess work out of training runs so you can just relax and let your mind wander. Once your run is complete, upload your workout information to your computer to review splits, pace and a bazillion other things.
No.7 A subscription to a great running magazine like
Runner's World
No.8 A gift certificate for a massage... swoooon
No.9 A cute
Lululemon running skirt
keeps you cool and comfortable when you're pounding the pavement. I loved wearing mine during the
Philadelphia Marathon.
Happy Shopping!