I can't believe I've lived in New York City for 11 years and have never gone to the
GMA Summer Concerts in Central Park
! Where have I been? Every Friday during the summer, Good Morning America hosts a concert at Rumsey Playfield which is just a 10 minute walk from my apartment. One of my goals this summer is to start doing all the things I love doing, instead of just thinking about them. I love hanging in the park and I love listening to live music. So when I heard that Sarah Mclachlan and Norah Jones would be performing in the park for free, I was so excited!
I invited my friend Jessica to join me and we met up at around 7am to enjoy the music and the incredible weather. And of course, this was a great opportunity to try out a new recipe :) Doesn't a morning in the park with live music, a good cup of coffee, and Banana Oat Walnut Bread sound sort of perfect? Here are some pictures from the morning followed the recipe for this delicious, gluten free, and pretty healthy version of Banana Bread.
Presenting the weather report. I developed a little girl crush on the woman with the mohawk ;)
I met a guy with a tattoo of Sarah Mclachlan on his arm. He was obsessed!
Jessica enjoying a piece of Banana Bread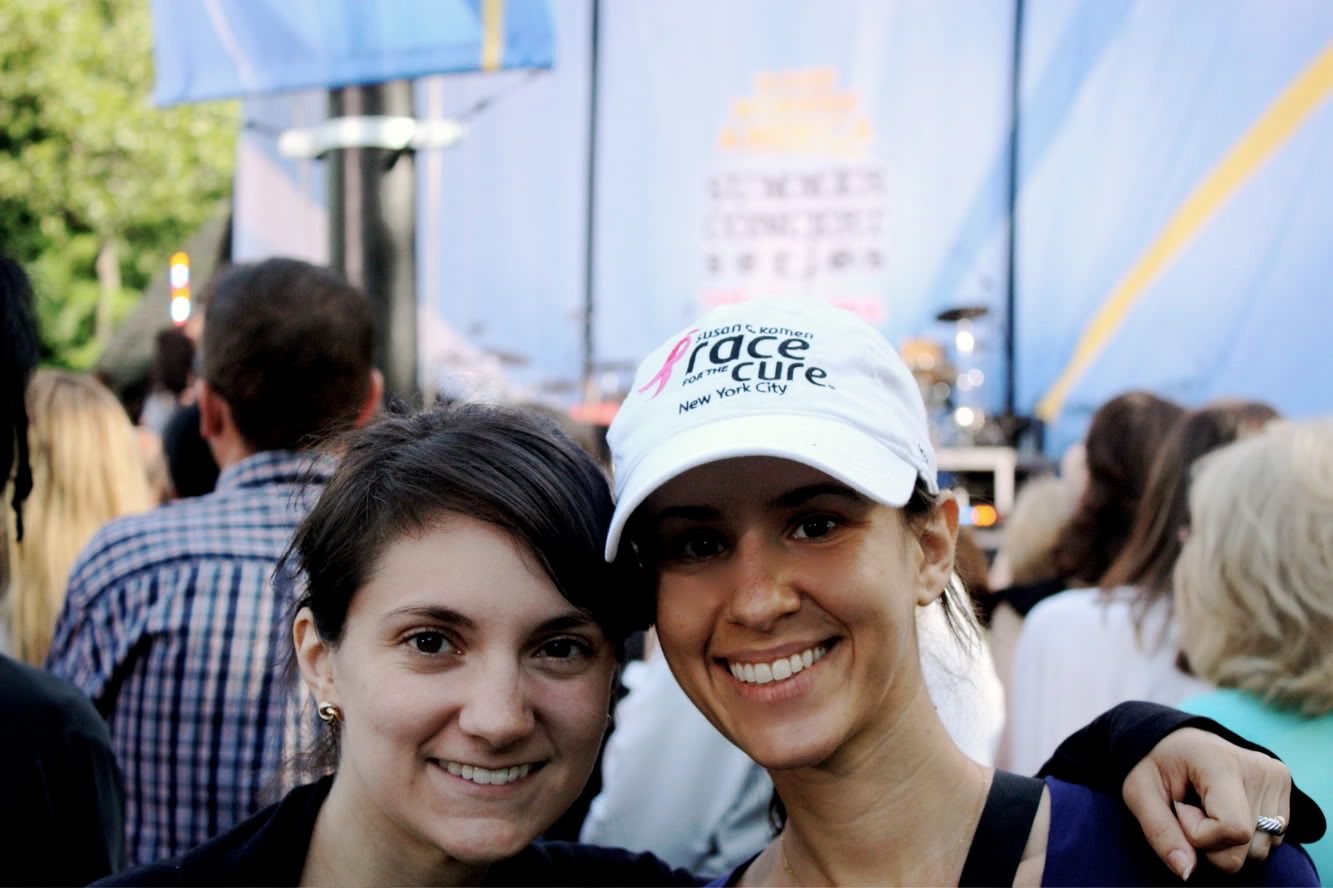 Jess & I hanging at the concert

Banana Oat Bread
In a large bowl, sift together:
1 cup brown rice flour
1 tsp baking soda
1/2 tp salt
2 tsp baking powder
1/2 tsp cinnamon
To this bowl, add:
1/2 cup gluten free ground oats (ground in a food processor)
1 cup gluten free rolled oats
In a separate bowl, or in the bowl of a large food processor, puree together:
1/3 cup agave
equivalent of 1 egg replacer (for vegan version) or 1 egg white
3/4 cup almond milk
1/3 cup applesauce
1/2 tsp vanilla
3 large very ripe (aka mushy & brown) Bananas
Pour the pureed banana mixture into the flour and oat mixture, and combine well. Add 1/2 cup chopped walnuts. Pour the batter into a greased bread pan and bake in a preheated 400 degree oven for 40-45 minutes. Let cool for 10 minutes before removing from the pan. Enjoy!