Dad & I in Philadelphia for the 2009 Half Marathon
I hope everyone had a wonderful Father's Day and spent the day with family and loved ones! Unfortunately, my folks live in Florida so I didn't get to spend the day with them but I called my father the minute I completed this morning's race to wish him a great day and give him a recap.
As for this morning's Father's Day Race Against Prostate Cancer, it sucked big time. Or I guess I should say I sucked big time. I was really excited about this one. It was the first race I ever ran last year so it was my one year raceiversary and I was running it with my dad, a survivor, in mind. I finished last year's race 53:56 and was hoping to complete this morning's in 47 minutes. Um... not so much.... I finished it in 56:39! My worst time ever!
I wish I could blame the heat (74 degrees) or humidity (81%) at the start line. But I really have no one to blame but myself because I made some really poor decisions this weekend that left me feeling like crap, both physically and mentally. I ate really poorly, hardly slept, and then didn't get out of bed in time for my race morning ritual. The race began at 8:30 am and I didn't drag my ass out of bed until 7:30. I took a quick shower, gulped down some coffee, and ate half a gluten free english muffin with coconut oil, peanut butter, banana and cinnamon. A great pre-race snack? Absolutely! I just wish I'd given myself some time to digest it before heading out to Central Park.
I drank a large bottle of water on the way to the park and felt pretty good until 5 minutes before the start. I had to go to the bathroom but didn't want to miss the start, so I just ignored it and told myself I would go after the 5 miles. BIG mistake, HUGE! The race started off well, I felt good and was running at a healthy 9 minute mile. At mile 2, some major stomach pain kicked in but I kept running. Two minutes later, the pain got worse and I got the chills but I still kept running. At mile 2.5, I finally had to pull over and puked. It was not pretty and I ended up walking to the next set of porta potties at mile 3 to finally go to the bathroom, which I should've done before the race. This picture does a great job of summarizing my performance at this race!
Feeling much better, although a bit weak, I grabbed some fluid at the next station and then did my best to make up for lost time. I spent mile 3 beating myself up, and mile 4 telling myself it was no big deal and thinking about the lessons learned. I finished with a bruised ego but a smile on my face and am just looking forward to redeeming myself next weekend.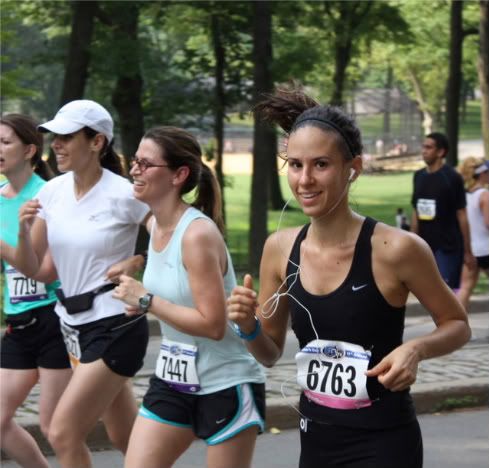 This race was an incredible reminder that I need to work hard and can't take my progress for granted. I'm not the most disciplined person and when I take action, and see my action produce positive results, I tend to take that for granted and slack. And then I end up puking on the sidelines at a race. I guess sometimes I need a huge kick in the ass to remind me that I'm not invincible.

Lucky for me, I have an awesome father and he was still proud!